Custom Plugs Brings Sleek New Website Design For 2020
Custom Plugs Brings Sleek New Website Design For 2020
Custom Plugs, the number one online store for plugs and tunnels with a wide range of body jewellery for stretched ears is back with a powerful new website. With a sleek design, and equipped with new collections of plugs, tunnels, accessories, and apparel, Custom Plugs is making the most of 2020!
Custom Plugs required a custom approach
Having just launched their brand-new website, not only is it looking sweet but it's also faster, smoother, and looks better on any size screen!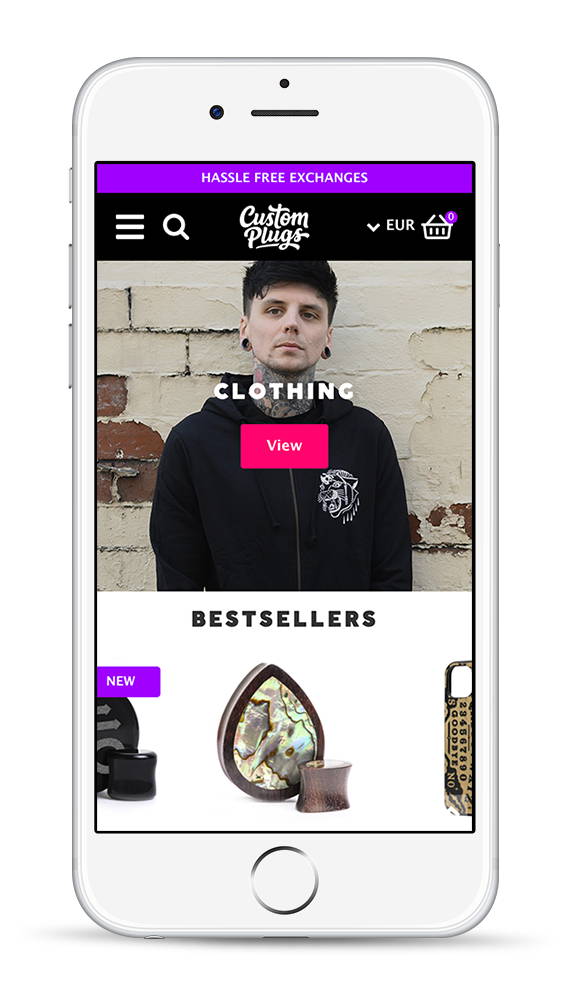 The redesign, done by expert Shopify Developers, Liquify brought together a highly skilled team that created a brilliant custom theme that captures the essence of the Custom Plugs brand. 
The new theme ensures that the focus is on what it needs to be: the huge collection of unique products that Custom Plugs sells. From their ear stretching kits for beginners, through to fun and quirky ear plug designs for any size ear stretch, it's even easier to find categories and sizes customers are interested in. 
The new image gallery is faster and has higher quality images so customers can see designs clearly before they buy. Plus, customer reviews are now front and centre, right below the description and delivery information! It's also easier to browse through them, ask a question, or write a review for an already purchased pair of plugs. 
A new website for a new experience 
It's not just the look of the website that is different, Custom Plugs have upgraded their 'engine' by moving from Magento to Shopify. 
Having run on Magento for years, Custom Plugs made the switch to the new Shopify platform not only because they preferred the technology, but also because they are scaling. Magento's forced upgrades and server issues no longer became a cost-effective or viable option for their growing online business.  
With their customer experience as a high priority and driver for the change, Custom Plugs wanted their website experience to have the same quality and standards as their products. And luckily now it does! 
Overcoming challenges to bring shoppers a better experience
The main challenge with moving from Magento to Shopify was ensuring minimal downtime and impact to customer experience whilst making sure historic data remains intact. 
Custom Plugs already had a huge database full of plugs, tunnels, and product listings, images, descriptions, sizes, weights, and much more. Building all of that from scratch on a new platform was out of the question. 
Data migration was a huge undertaking that required a lot of planning, something the Shopify Plus experts from Liquify delivered. They created a detailed roadmap that made the move from Magento to Shopify a seamless experience. Not only did Custom Plugs manage to migrate all of their data on plugs, wooden iphone cases, jewelry, and tunnels, they also preserved their SEO ranking. 
Now, with Shopify, the new website has even more tools to match incredible customer experiences with their awesome product range. Building upon their already established authority with new SEO tools and even better performance!