Fast Facts
Earning money online has never been easier. Yet many people struggle to understand how how to make money online and look at outdated methods that worked back in 1998.
Starting an online store is one SERIOUSLY EASY WAY TO MAKE MONEY ONLINE and a great introduction to working online. Currently it's rated #1 for How to Make Money Online. This method requires very little startup money and time. You don't even need any products - they are all shipped directly from the manufacturer.
Spend one hour on the basics required to start selling online and set up an online shop. Don't think it's possible? Take a look at our one hour guide...and learn how to earn online.
Take the MasterClass

It's FREE for 14 days.
#Step 1
Start a Free Trial with Shopify
Starting an online store has never been easier or cheaper. Shopify is currently rated as the best ecommerce platform in the world and they offer a free 14 day trial. You do not even need products - this will all come later - we'll show you how to ship products directly from the manufacturers.
Today we're going to look at how we can create a basic store in 1 hour. So go ahead and click the button to start a free 14 day trial. You won't need a credit card and you won't need to pay anything. We will use this trial period to set up shop.
It doesn't matter what you call your Shop for now - just choose anything. It will be changed later.
Just create an account and we'll come back to naming and logos later.
#Step 2
Select a Store Theme / Template
You may have heard of themes when it comes to websites. They are also called templates.
A template or theme controls the layout of the website: how it looks without knowing any code. You can buy a ready made theme or use a free theme. It's very simple to edit a Shopify website using a theme. It allows you to control things like the color and fonts and layout with a drag and drop builder.
Today we're going to use a free theme from the Shopify theme store. There are currently 10 free themes in the Shopify theme store. Take a look at them by clicking here.
It doesn't matter that you find the perfect theme - just choose one and you can come back to it later and choose another.
Once you've found one you like go ahead and install it on your store. Watch the video here for how to do this.
At the end you should have a free Shopify store with a free theme installed.
Now, don't worry about customizing the theme yet - that will come later. You will come back to changing colors and fonts later. For today's tutorial let's run over some basics you'll need to start selling products. later on you can worry about how the store looks by spending some more time selecting and customizing a theme.
Pro tip: If you're looking for a better theme don't fork out $180 on a Shopify theme - buy one from Themeforest for $50-70.
#Step 3
Install the Oberlo App
Themes control the layout of a Shopify shop. Apps add additional functionality - just like with your phone.
One app we will need for this tutorial is called Oberlo. This app allows you to sell products directly from China and get them shipped directly to your customers. You never even see the products.
Import Some Products from AliExpress to Shopify

#Step 5
Select some products to sell
Once Oberlo is installed in your shop you can go ahead and import a product or two. Just select any product from AliExpress.
To begin with just import one or two products - later on you can delete them and select new products to sell. Just import one or two products for demonstrative purposes.

You can read more about using Oberlo in their documentation.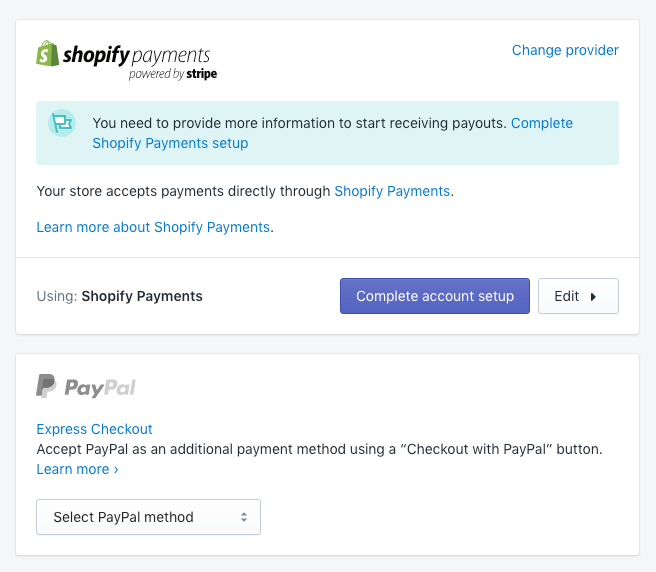 #Step 6
Set up your Payment Gateways
So now we have a basic store with a product imported from Oberlo. Great - this should have taken around half an hour to do.
Next we need to make sure that customers can buy that product from the store. Shopify has made payments easy. Simply go to settings > payment providers
We suggest adding Paypal as a payment method and Shopify Payments for credit and debit cards as this is the cheapest. If Shopify Payments is not available in your country Stripe is usually the next cheapest.
See Shopify's documentation on Getting Paid
#Step 7
Get a custom domain
Shopify give you a domain which looks something like yourstorename.myshopify.com
Most people will decide to get a custom domain name. We suggest doing this as a branded domain is more trustworthy. You should do this through Shopify as it's quick and simple. Just follow instructions here.
#Step 8
Get email hosting
Shopify will give you a website which should now be under your own domain name. To give a more professional appearance you should also get email hosting for your store so you can send and receive email on your domain. (You can use your gmail account if you want but it's not going to look professional to customers.)
To get Shopify email hosting open an account at Shopped Email - choose as many email addresses as you want but usually one or two is fine. It will help you build trust and brand.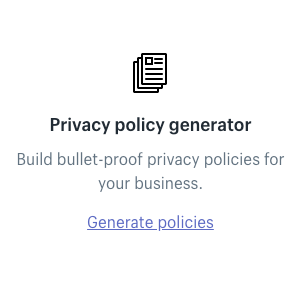 #Step 9
Add the boring stuff
Each and every website needs some standard info pages for customers. We'll refer to these pages as the Boring Stuff but they are absolutely essential and you should not launch a store without adding them.
You need to add the following pages to your store: Privacy Policy, Refund Policy, Terms of Service and Shipping Policy.
Shopify offers templates for these to save time. Go here and follow instructions.
#Step 10
Get a FREE logo
Every website needs a logo. Use Hatchful to generate a free logo.
Conclusion
In the last hour you should have built an online store, imported a product from Oberlo and generated a logo. Whilst you could in theory launch your store at this point you'll probably want to do the following first:
- Tweaking your theme settings and adding homepage content
- adding more products
Once that's all done you're ready to remove the password and start selling.
Interested in learning more about how to succeed with your store? Take the masterclass and learn from the BEST.